Exact Answer: 3 Years
Accounting makes it possible to systematically record, analyze and report important financial information and communicate the financial health of a business to all interested parties. It's the backbone of any company.
If you are an accountant, you can work in almost any industry. The job of an accountant is to record and classify the financial data which is being generated by the company, in a structured format and summarize that financial data into meaningful data. So, how do I get into accountancy as a career? Where do I begin? How much can I earn being an accountant? These questions arise in everyone's minds.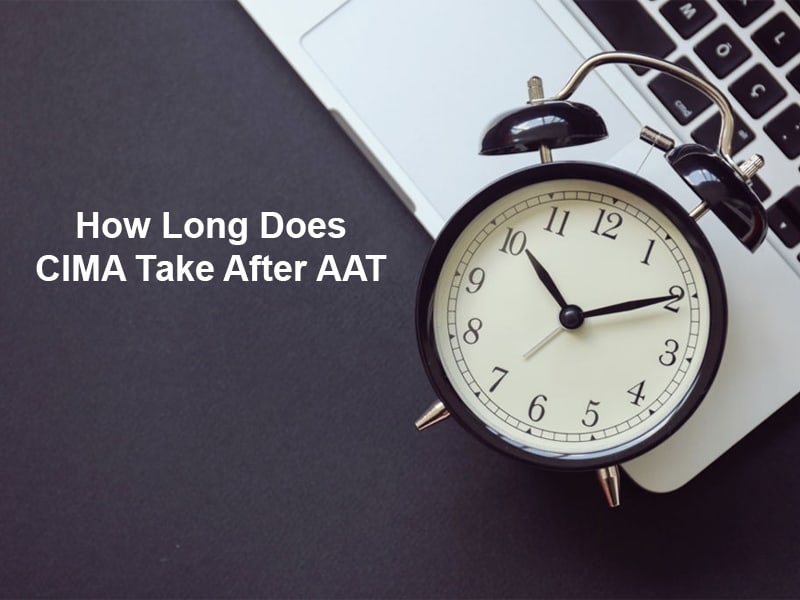 How Long Does CIMA Take After AAT?
| | | |
| --- | --- | --- |
| Qualification | Number of levels | Levels |
| AAT – Association of Accounting Technicians | 3 | Foundation, Advanced, Professional |
| CIMA – Chartered Institute of Management Accountants | 4 | Certificate, Operational, Managerial, Strategic |
Individuals can enter accounting at any age. But if you haven't finished your schooling or if you are entirely new to accounting, you may wish to look into obtaining a diploma in accounting. One of the most recognized diplomas in accounting is the AAT which stands for Association of Accounting Technicians.
AAT is a professional body for accounting technicians. AAT aims to produce high-quality accounting technicians who can help run efficient finance functions across all kinds of business organizations. You will gain the knowledge needed to be a valuable member of an accounting team and a qualification that is recognized by accounting professionals across the world, by completing an AAT qualification.
AAT is made of three separate levels which are the Foundation, Advanced and Professional levels. These are often referred to as level 2, level 3, and level 4. So, which level is suitable for me?
The AAT Foundation level is suitable for individuals with no prior experience and who is an entry-level role in finance and accounting. The AAT Advanced level is suited for the one who is looking for progress in their career and for an individual with some or little finance experience. The AAT Professional level is suited to an individual who wants to become their manager and start their own business. The AAT can take 6 months to 3 years to complete. It can also take longer if you take gaps between each level.
What can I do after completing AAT? Based on your interests, you can study ACCA, CIMA, or ACA after completing AAT. Here we are talking about CIMA. You may have heard of CIMA which stands for Chartered Institute of Management Accountants. It's a UK-based professional body in management accountancy aimed at accountants working in the industry.
Management accountants analyze data, forecasts, and budgets. They create reports to be used internally, compile future information, and measure operational as well as financial performance. If you don't want to do much Tax or Audit and if you are good at learning the fine details then CIMA is the best qualification for you. If you don't see yourself in a Financial analyst or Financial Accounting role and if you are looking for management accounts or strategic management, then CIMA is the best for you.
Why Does It Take 3 Years To Complete CIMA After AAT?
The CIMA qualification is split into a certificate which is a standalone qualification. CIMA has four levels which are known as Certificate in Business Accounting, Professional Operational, Professional Management, and Professional Strategic. Each of these levels has four exams each.
It roughly takes 3 to 4 years to complete CIMA. AAT students holding a level 4 qualification can start studying CIMA's Professional qualification straight away and can complete CIMA in 3 years. If you are a graduate it will take you anywhere between 18 months to 2 years to complete 3 levels. If you have finished school, it will take 4 years to complete all four levels.
Conclusion
As an AAT student, you can start studying for the globally recognized CIMA qualification anytime. If you have an interest in management accounting, adding value to the business, and looking at the strategic level then this is a great start. Gaining a global professional degree is always beneficial and can add weightage to your profile in building your career. Such exposure to global management accounting and skills are always welcomed everywhere. AAT is great for basics, but if you want to go further into an accounting career then CIMA is the way forward. With CIMA, you can gain new skills like financial analysis, project management, negotiation, and leadership.
References
https://books.google.com/books?hl=en&lr=&id=hv-0WSTDxHcC&oi=fnd&pg=PP2&dq=aat+cima+qualifications&ots=k8WXilVzew&sig=eNQvEeuEc3GulrOLehEz3eJx4Uo
One request?
I've put so much effort writing this blog post to provide value to you. It'll be very helpful for me, if you consider sharing it on social media or with your friends/family. SHARING IS ♥️
Sandeep Bhandari is the founder of ExactlyHowLong.com website.
I am a professional full-time blogger, a digital marketer, and a trainer. I love anything related to the Web and I try to learn new technologies every day.
All the team management, content creation, and monetization tasks are handled by me. Together with the team at ExactlyHowLong, the aim is to provide useful and engaging content to our readers.
In game development, I love playing with every different engine, toolset, and framework I can find. In digital art, I love everything from painting to vector work to pixel art to 3D modeling.
In short, if it's creative and you can make it digitally, I love it.
What do you think?