Exact Answer: 10-12 minutes
Ideally, a sauna is a medium-sized room that contains hot air or steam bath used for refreshing people's bodies.
It can also be defined as water being thrown on hot stones in a Finnish steam bath.
Individuals who get to the sauna experience either dry or wet heat sessions. The temperatures in the sauna vary between 700C to 1000C.
The high temperature in the sauna makes the people who are inside it to sweat and feel relaxed.
Furthermore, saunas can be categorized into two: the infrared sauna that normally warms their objectives and conventional sauna, which warms its air.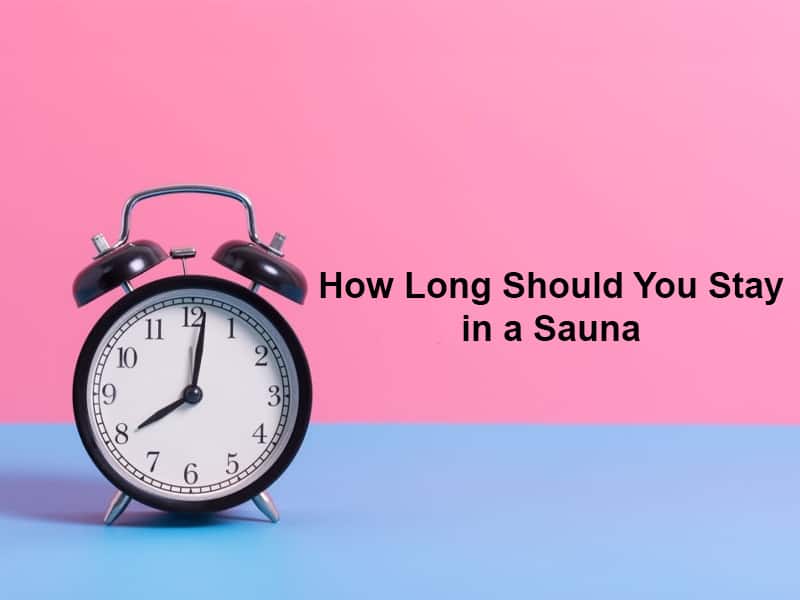 How Long Should You Stay in A Sauna?
For starters, the period one should stay in a sauna should be less than one hour.
The recommended maximum period recommended with expertise is 30 minutes.
On the other hand, the minimum period to stay in a sauna should be 10-12 minutes.
When one is a beginner in the sauna session, he or she should start with a few minutes, and then the period will be added in the next sessions.
Below is an illustration of the period one should stay in a sauna:
| | |
| --- | --- |
| Experience | Time |
| Beginner | 10-12 minutes |
| After Exercising | 15-20 minutes |
| At Maximum | 30 minutes |
In addition, after getting used to the sauna, and these sessions become more of an exercise, then one is required to be in the sauna for 15-20 minutes.
After the sauna session is over, it is also required for one to take a cold shower. This will enable cooling off due to the high temperatures in the sauna.
Lastly, sauna sessions should take a short period of time. Over-staying in the sauna causes health issues such as low blood pressure, dizziness, nausea, and dehydration.
Why Should You Stay in a Sauna That Long?
To begin with, sauna sessions should be very brief and tend not to go beyond one hour.
Excessive stay in the sauna for both beginners and people who are used to it causes health issues.
Some of these health issues include dizziness, dehydration, nausea, and low blood pressure. Hence this can be avoided by staying in the sauna for a short period of time because of the high temperatures in the sauna.
Expertise recommends individuals to stay inside the sauna for 10-12 minutes, which will be safe for their health.
Also, if individuals wish to stay in the sauna for a long period, this can also be possible. However, the precaution they should take is to have breaks between the sessions of 10-12 minutes.
In between the breaks, they should take cold showers before getting back to the sauna again.
This will not only cool off their bodies but also prevent them from getting health issues because of overstaying in the sauna without taking breaks.
Lastly, a few minutes in the sauna are very beneficial. This is because the sauna sessions help in sweating and relaxing purposes. That is why it is unnecessary to overstay in the sauna because short sessions are equally important.
References
https://www.tandfonline.com/doi/abs/10.3402/ijch.v65i3.18102
One request?
I've put so much effort writing this blog post to provide value to you. It'll be very helpful for me, if you consider sharing it on social media or with your friends/family. SHARING IS ♥️
Sandeep Bhandari is the founder of ExactlyHowLong.com website.
I am a professional full-time blogger, a digital marketer, and a trainer. I love anything related to the Web and I try to learn new technologies every day.
All the team management, content creation, and monetization tasks are handled by me. Together with the team at ExactlyHowLong, the aim is to provide useful and engaging content to our readers.
In game development, I love playing with every different engine, toolset, and framework I can find. In digital art, I love everything from painting to vector work to pixel art to 3D modeling.
In short, if it's creative and you can make it digitally, I love it.
What do you think?