Exact Answer : At least 2 weeks
The widespread of Coronavirus has shaken the whole world with this deadly virus. This pandemic has affected almost every part of our day-to-day lives. It is very challenging to make things normal without ending this spread. It is essential to stay protected, this is the only way to stay safe. Even the complete shutdown has failed to stop this deadly virus.
A person who is infected with this virus needs to stay in quarantine for 14 days i.e 2 weeks. If the test report comes negative after 14 days then one can end his quarantine period. The quarantine is meant to stop the spread of the virus and make people free from this dangerous virus.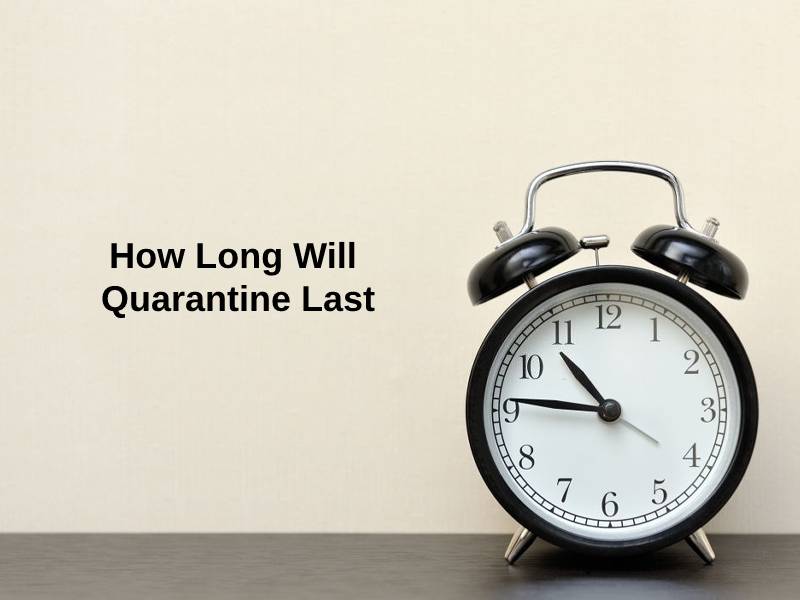 How Long Will Quarantine Last?
Quarantine lasting time depends upon the person's interaction with the Coronavirus. Quarantine is a very important option to prevent the spread of Covid-19. Public Health System has taken these steps to protect the whole world from this disaster.
However, this time period of quarantine can be changed as per the result of Covid symptoms. But it is also perceived that the person who is leaving quarantine early can transfer the virus to someone else too. The term quarantine is meant for a person who was exposed or may be exposed to Covid-19 in any way. The whole purpose of quarantine is to keep any kind of infectious disease from spreading.
If you were in contact with Covid patients within six feet or had any direct physical contact like touched, hugged, or kissed them. It is clear that their respiratory droplets somehow dropped on you. In that situation, you need to have quarantine for 2 weeks. Close contact with someone who has some symptoms can make you infected too.
That is why quarantine is important for your safety as well as the people around you. The Health System keeps changing the guidelines for quarantine from time to time. However, the incubation time duration for Covid is 2- 14 days. That is why 14 days or two weeks quarantine is still considered as one of the most effective ones.
| | | | |
| --- | --- | --- | --- |
| Length Of Quarantine | Continued Symptom Monitoring Period | Test Required | Residual Risk Of Positivity After Leaving Quarantine |
| 14 days | None | None | 0.1% |
| 10 days | 4 days | None | 1.4% |
| 7 days | 7 days | PCR at day 5 or later | 4.0% |
| 7 days | 7 days | Antigen/Rapid at day 5 or later | 5.5% |
Why Will Quarantine Last So Long?
As per the Centers for Disease Control and Prevention (CDC), one needs to stay home or quarantine for at least 14 days. Many people can't live alone for so many days due to mental health and physical health issues. Now, the Health Department has suggested two other options of quarantine. It is especially for this person who doesn't experience any symptoms during the first 10 days of quarantine.
After ending the quarantine, one should watch the symptoms for the next 14 days. If you observe any slight difference in your health then immediately follow the quarantine schedule. Follow all the necessary precautions as much as possible. Wash your hands regularly with an alcohol-based sanitizer. Don't forget to boost your immunity. Some people think that both isolation and quarantine are the same.
Though the objective of both terms is to stop the prevention of the virus. But quarantine lasts for 7-14 days when a person is exposed to someone who has tested positive for Covid.
Conclusion
Whether you are vaccinated or not, it is much safer to quarantine for 14 days if you are exposed to Coronavirus. It is the easiest and best way to prevent the spread of the virus. It also lessens the risk. If you are going for a 10-day quarantine, make sure that after 10 days you still have a check on yourself. Don't try to do everything on your own.
When you feel a little sick or observe any symptoms of covid, immediately consult a health expert. In this situation, a doctor is the one who can guide you with the best medications and advice.
Reference
One request?
I've put so much effort writing this blog post to provide value to you. It'll be very helpful for me, if you consider sharing it on social media or with your friends/family. SHARING IS ♥️
Sandeep Bhandari is the founder of ExactlyHowLong.com website.
I am a professional full-time blogger, a digital marketer, and a trainer. I love anything related to the Web and I try to learn new technologies every day.
All the team management, content creation, and monetization tasks are handled by me. Together with the team at ExactlyHowLong, the aim is to provide useful and engaging content to our readers.
In game development, I love playing with every different engine, toolset, and framework I can find. In digital art, I love everything from painting to vector work to pixel art to 3D modeling.
In short, if it's creative and you can make it digitally, I love it.
What do you think?