Exact Answer: 1-4 hours
Restoring your iPhone entails deleting all data stored in your device and resetting your phone back to its original factory settings.
Therefore, before restoring your iPhone, it is essential that you backup your vital data to ensure it does not get lost.
So how long does this process take? Well, this is what we are going to take you through in this article.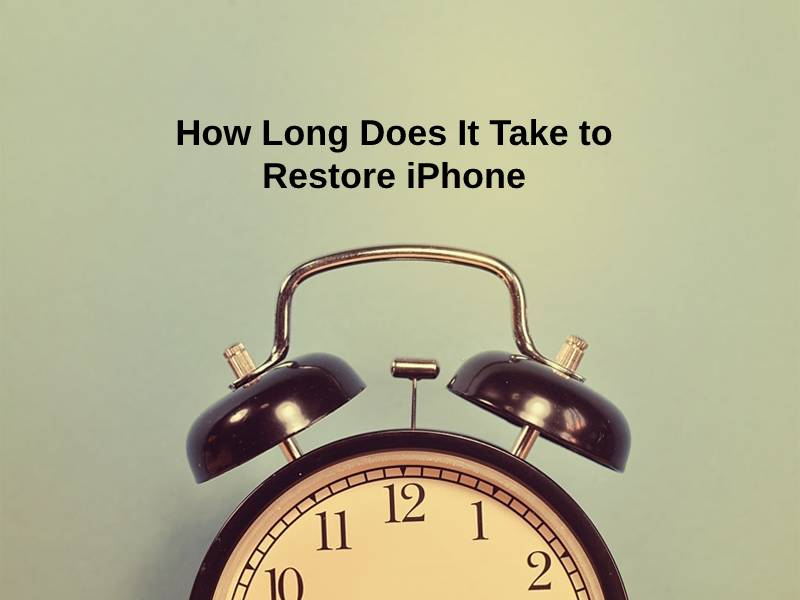 How long does it take to restore an iPhone?
| | |
| --- | --- |
| iPhone Restore Type | Time Taken |
| iCloud (100 MBps Internet Speed) | 1 to 4 hours |
| iTunes | 15 to 30 minutes |
The duration it takes to restore an iPhone is between 15 to 30 minutes and how long the restoration process takes depends on the amount of data that it contains.
There are several vital factors that probably determine whether restoring your iPhone will take 15 minutes or a maximum of 30 minutes. These factors include;
The amount of content to be restored – If the content that needs to be restored in your iPhone is a large file, then be sure that the restoration process will be slower compared to when you have a small content.
Thus, the amount of content factors in how long it takes to restore your device
How often do you backup your device
If you regularly back up your iPhone, it is guaranteed that it will take you less time to restore it compared to a device that has never been backed up.
Therefore, it is recommended that you backup your iPhone as much as possible to drastically reduce the amount of time it would take you to restore it.
The type of backup you are restoring to
You can choose to either reset your iPhone with iCloud or iTunes.
In case you are restoring an iPhone with iTunes, make sure you complete your restoration on your iPhone and then connect it to your computer to allow the automatic launch of the iTunes.
After this procedure
You are supposed to click on the iTunes tab, click the restore button, select your device and then confirm your request by clicking on the restoring button.
This same process applies to when restoring an iPhone using iCloud.
Why does this process take this long?
iOS update
This is a vital factor when it comes to why it takes that particular time to restore an iPhone.
Thus, iTunes need more time to restore an iPhone simply because it has to download a new iOS.
Amount of data on your iPhone
If you have not backed up your data and your device has a lot of media files, it will take you a long time to restore your device.
So, it is advisable to have a minimal number of files to fasten the whole process.
Internet speed
The speed of your internet will either slow the process of restoring or fasten.
Before you start restoring your device, you should check on your internet speed.
This is a determinant factor as to why it takes that long to restore your iPhone.
Conclusion
Having read this article, you now are guessing on what is the exact time it would take them to restore an iPhone.
Furthermore, from the above factors, you can be able to determine how long it might take to restore your device.
Therefore, it is up to you to decide when to restore your iPhone.
One request?
I've put so much effort writing this blog post to provide value to you. It'll be very helpful for me, if you consider sharing it on social media or with your friends/family. SHARING IS ♥️
Sandeep Bhandari is the founder of ExactlyHowLong.com website.
I am a professional full-time blogger, a digital marketer, and a trainer. I love anything related to the Web and I try to learn new technologies every day.
All the team management, content creation, and monetization tasks are handled by me. Together with the team at ExactlyHowLong, the aim is to provide useful and engaging content to our readers.
In game development, I love playing with every different engine, toolset, and framework I can find. In digital art, I love everything from painting to vector work to pixel art to 3D modeling.
In short, if it's creative and you can make it digitally, I love it.
What do you think?