Google Docs is a free web-based word processor part of Google's G Suite productivity software. With Google Docs, users can create, edit, share, and collaborate on documents directly from a web browser. The key benefits of Google Docs include real-time collaboration, access from any device, and automatic saving to the cloud.
We will cover everything you need to know about getting started with Google Docs, from understanding the main features to utilizing the tools for creating, formatting, and sharing documents. Whether you need to boost productivity or ease collaboration, Google Docs can be a versatile solution.
What is Google Docs?
Google Docs is a cloud-based word-processing application allowing users to create, edit, store, and share documents online. It is offered as part of Google's web-based software suite called G Suite and does not require any additional software downloads since it works on web browsers.
With Google Docs, users can write, edit, and format text documents like Microsoft Word. Since Docs saves files on Google Drive storage, they can be accessed from any computer or mobile device with an internet connection. Multiple people can collaborate and edit Docs in real time, making it easy to work together on projects and documents.
Some of the key features of Google Docs include:
Document creation – Make new documents or use pre-made templates
Editing tools – Add/format text, insert links, comments, images
Live collaboration – Multiple editors at once with real-time updates
Version history – See revision history and revert to older versions
Share and export – Share for viewing or editing, export as Word or PDF
Universal accessibility – Use Docs on any device with an internet browser
Add-ons – Extend functionality with G Suite Marketplace add-ons
For individuals and teams that need an accessible, flexible, and collaborative document editing tool, Google Docs provides an excellent free option compared to paid suites like Microsoft Office. The simple interface makes it easy for anyone to create polished, professional documents.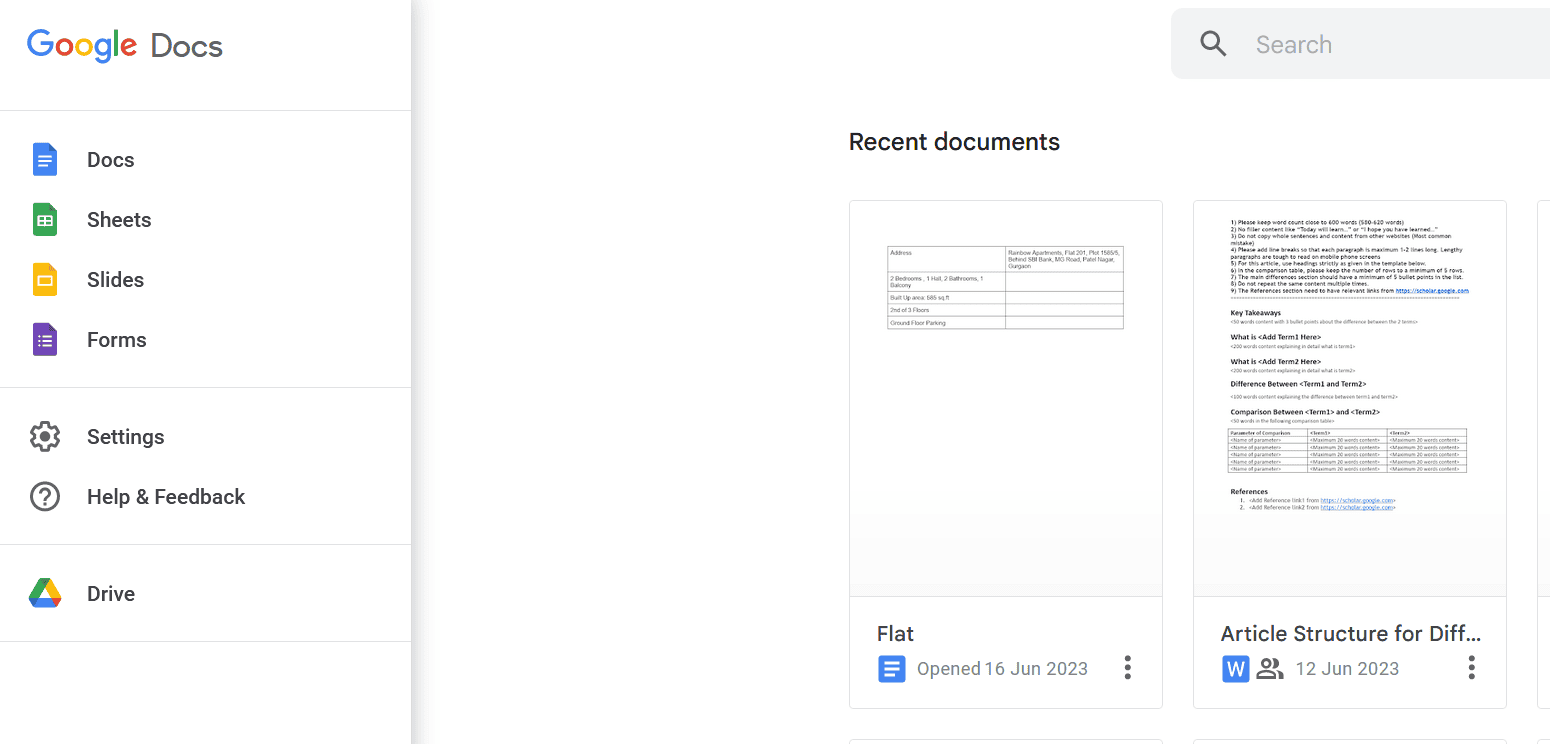 Key Features of Google Docs
Some of the key features and capabilities of Google Docs include:
Document creation – Users can create new documents from scratch or use one of many Google Docs templates for common document types like resumes, reports, letters, etc.
Live editing and formatting – Docs provides styling tools to format text, add headings, apply styling like bold or italics, change font size and color, align text, add bullet points, and more.
Share and collaborate – You can invite others to view or edit Docs by sharing a link or adding collaborators. Live collaboration allows for real-time co-editing.
Cross-device editing – Docs saves to the cloud automatically and lets you create, view, and edit from any laptop, phone, or tablet with an internet connection. Changes sync across devices.
Built-in productivity tools – Tools like voice typing, research, and citation generation help streamline workflows.
Version history and edits – Docs keeps a detailed revision history so you can see edits made and revert back to older versions easily.
With these features and seamless compatibility across devices and platforms, Google Docs makes creating, editing, sharing, and collaborating on documents from anywhere simple.
Benefits of Google Docs
Google Docs offers a variety of benefits that make it an appealing free alternative to paid offline office suites:
Increased productivity – Docs' live collaboration features and ability to work from anywhere enables users to work together efficiently on documents.
Cost savings – As part of G Suite, Docs provides free word processing, making it a budget-friendly option compared to purchasing Microsoft Office.
Accessibility – Since Docs works in the cloud, users can access files from any device with an internet connection, enabling work on the go.
Collaboration – Real-time editing and built-in comments allow for seamless collaboration between teams. Changes are synced instantly.
Automatic saving – Docs autosave to the cloud, preventing data loss and enabling version history.
User-friendly – The simple, intuitive interface makes creating, editing, and formatting documents online easy.
Platform compatibility – Docs works equally well with an internet browser on Mac, Windows, iOS, and Android devices.
For individual users, small businesses, and teams looking for an affordable, flexible, and collaborative document creation tool, Google Docs offers various benefits and overpaid alternatives while remaining free.
How To Use Google Docs
Accessing Google Docs
To start using Google Docs, you first need a Google account. Go to docs.google.com or open Docs from your Google Drive. The iOS and Android mobile device apps can also be used to access Docs on the go. Log into your Google account in the app to view, create, and edit documents on your phone or tablet.
Creating and Formatting Documents
Google Docs makes it easy to start creating documents right away. Open Docs and select a blank document or template. Docs provides a range of formatting options to customize documents:
Text can be formatted with font type and size, bold, italics, underline, strikethrough, text color, and alignment.
Lists can be created with automatic numbering or bullet points.
Insert images, drawings, charts, or tables to supplement and visualize information.
Set page orientation, margins, size, and columns, and add page breaks.
Add footnotes, endnotes, hyperlinks, comments, a table of contents, and citations.
Docs also offers a variety of document templates like resumes, project proposals, fliers, reports, and more to help you quickly create common documents.
Sharing and Collaborating on Docs
Google Docs facilitates seamless real-time collaboration through sharing and editing capabilities:
Share with editing or viewing access using a shareable link or adding collaborators.
Live co-editing allows multiple people to edit a doc simultaneously, with changes appearing instantly.
Built-in comments and suggestions allow collaborators to discuss changes in the document.
The version history shows all saved versions and changes made, enabling you to revert back if needed.
Download docs in Word, PDF, RTF, HTML, or other formats for offline use or to send as attachments.
Email collaborators or send the doc as an attachment right from Google Docs.
Docs facilitate teamwork and remote document creation with robust sharing and collaboration features.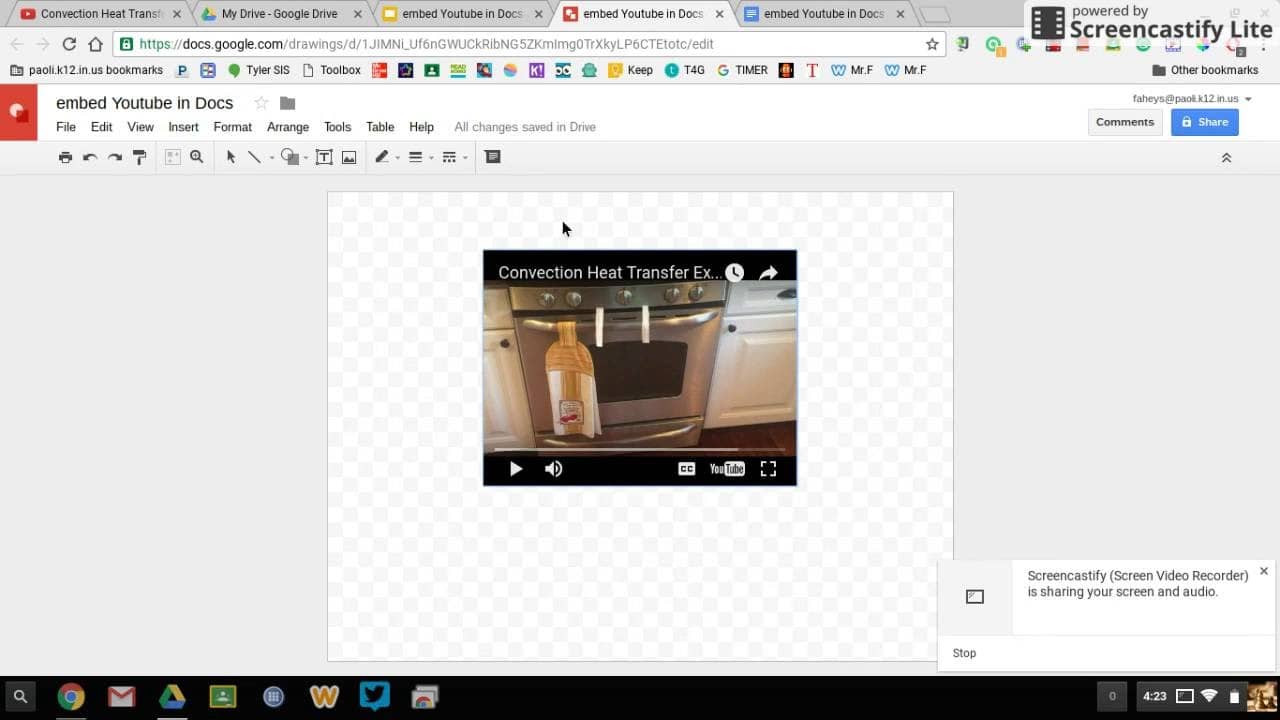 Additional Features and Add-ons
Google Docs offers additional features to enhance workflows:
Voice typing allows you to dictate text by speaking.
Google Translate can translate portions of text into other languages.
Add-ons extend functionality (e.g., EasyBib for citations, Word Count, etc.)
Accessibility options like screen reader support.
Mobile apps for iOS and Android make editing on-the-go easy.
Integrates with other G Suite apps like Google Calendar, Keep, and Drive for enhanced workflows.
While Docs covers core word processing needs out of the box, these additional capabilities help boost productivity further.
Conclusion
In summary, Google Docs provides a feature-rich free word processor through the web browser. It facilitates efficiency through real-time collaboration, device availability, and built-in capabilities that minimize repetitive tasks. While not as robust as Microsoft Word, Docs covers essential functionality like document creation, editing, sharing, and cloud storage for most personal or professional needs.
Its simple, intuitive interface makes Docs accessible to users at any skill level. Google Docs is worth exploring for individuals and teams seeking an affordable, collaborative document solution.
One request?
I've put so much effort writing this blog post to provide value to you. It'll be very helpful for me, if you consider sharing it on social media or with your friends/family. SHARING IS ♥️
Sandeep Bhandari is the founder of ExactlyHowLong.com website.
I am a professional full-time blogger, a digital marketer, and a trainer. I love anything related to the Web and I try to learn new technologies every day.
All the team management, content creation, and monetization tasks are handled by me. Together with the team at ExactlyHowLong, the aim is to provide useful and engaging content to our readers.
In game development, I love playing with every different engine, toolset, and framework I can find. In digital art, I love everything from painting to vector work to pixel art to 3D modeling.
In short, if it's creative and you can make it digitally, I love it.
What do you think?